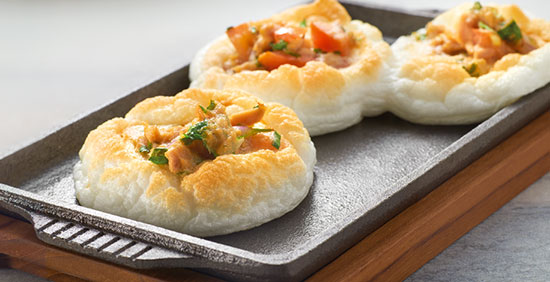 Hearty Breakfast Recipes With Ayam Brand
The weekend is a great time to get the family together and enjoy a leisurely breakfast. Instead of heading out to a breakfast joint, whip up a hearty homecooked breakfast that's Instagram-worthy.
Try out these 5 breakfast creations by Singaporean influencers and bloggers, featuring Ayam Brand products.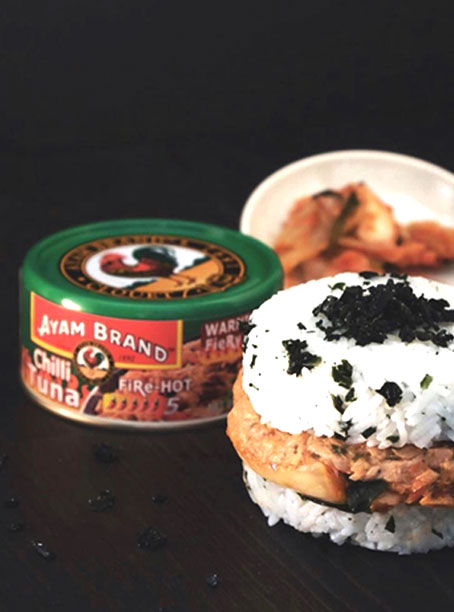 BY: @THEHALALEATER
For a breakfast meal that doesn't need any pans, stovetop or cooking, this recipe for Spicy Tuna Kimchi Rice Cakes by TheHalalEater is the perfect fix for a lazy Sunday morning. The kimchi adds a flavour punch, the rice fills you up for a day of fun and the tuna is an excellent source of protein and Omega-3.
What you need:
2 cups cooked white rice

1 tablespoon chooped nori, plus more for serving

3 tablespoons kimchi

3 tablespoons Ayam Brand Tuna (use Chilli Tuna Fire Hot Level 5, if you want an extra zing!)
How to prepare:
Add rice and nori into a bowl, and mix it evenly.

Scoop the rice mixture with wet hands and form into a ball. Pat rice into a firm patty about 4" round and ½" thick.

Wrap tightly in plastic wrap to retain shape, then repeat with remaining rice mixture till you get 2 patties (or buns).

Spread tuna evenly onto one of the rice patties. Add a layer of kimchi on top of the tuna, before putting the second rice patty such that you form a bun/burger. Sprinkle with the remaining nori.

Optional : wrap the final product in plastic wrap and chilli in the fridge.
Feeling a little fancy? Create a hipster cafe vibe in your own home with this breakfast creation by Evanns. Eggs and toast are given a luxurious twist in this recipe. Ayam Brand Tomato Puree is not only a delicious sauce, it's also cholesterol-free, rich in fibre and low in fat.
What you need:
1 garlic, chopped

3 eggs

Sausages

Grated cheddar cheese

Olive oil

Salt, pepper and herbs (to taste)
How to prepare:
Saute chopped garlic and herbs in olive oil in a skillet.

Add in Ayam Brand Tomato Puree, and season with salt and pepper.

Add in sausages.

Turn off the stove and crack in 3 eggs.

Sprinkle grated cheddar on top.

Put skillet in the oven and bake at 180 degrees for about 5-8 minutes, until eggs are set (but still runny!).

Serve with toast.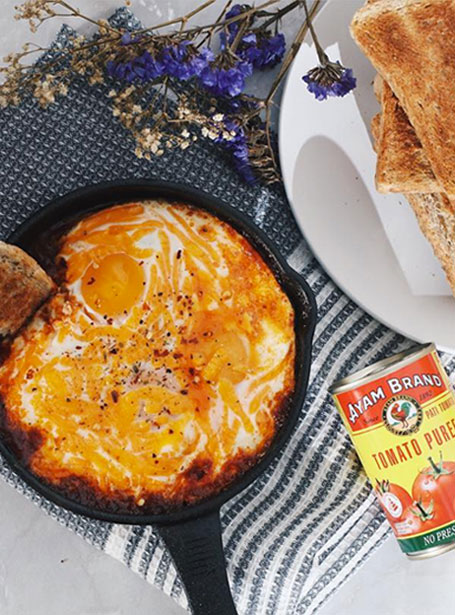 BY: EVANNS@HAYZGAL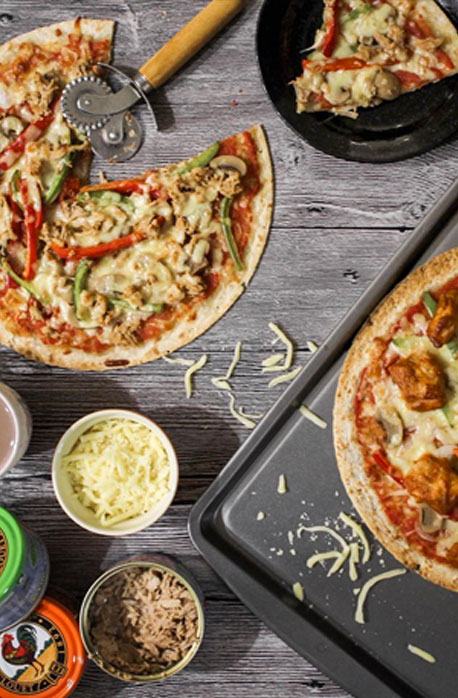 BY: SOPHIENG@SOPHIENSYY
Enjoy the comforting taste of homemade pizza with this recipe by Sophie. For extra fun on a Saturday morning, get all hands on deck and get everyone to make their own! Using tuna is a healthy topping as it provides you with much-needed Omega-3. Plus it's convenient; all you need to do is open a can.
What you need:
Pizza crust or tortilla wrap (for the base)

Ayam Brand™ Tuna Flakes (choose your favourite flavour!)

Shredded mozzarella and cheddar cheese

Button mushrooms, sliced

Green peppers, sliced

Red peppers, sliced

Canned tomatoes

2 cloves of garlic

1 small onion
How to prepare:
Use a blender to mix the tomatoes with 2 cloves of garlic and ¼ onion.

Spread tomato sauce on pizza crust/tortilla wrap.

Sprinkle your favourite flavour of Ayam Brand Tuna Flakes.

Add the sliced vegetables, mushrooms and remaining onion (sliced) on top.

Sprinkle generous amounts of cheese.

Bake at 180 degrees celcius for 15 mins.
For those of you who pack your weekend full of activities, this breakfast recommendation from Randy is an excellent way to get a nutritious meal on the go. Jazz up your usual boring sandwiches with Ayam Brand Salmon Spread which is a natural source of Omega-3.
What you need:
Bread. For healthier option, choose multigrain bread

Optional: vegetables such as lettuce, cucumber, tomatoes as toppings
How to prepare:
Spread a generous layer of Salmon Spread on bread.

Add any toppings, as desired.

Add another layer of bread to complete your sandwich.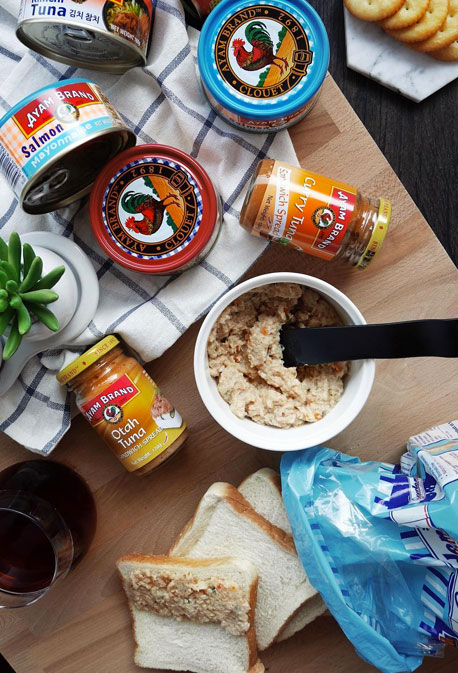 BY: RANDY LIM@RANDYLIM27
If you want variety in your breakfast, this mix of tuna breakfast bites by Tyler is for you! The convenience of canned tuna means that these bites are quick and easy to prepare. Plus, you'll enjoy the health benefits of tuna which is high in protein and Omega-3. Choose from the wide variety of Ayam Brand Tuna that's available. Whether it's the extra-healthy Tuna Flakes in Olive Oil Light, the spiciness of Chilli Tuna or the local favourite Otah Tuna, there's something for everyone.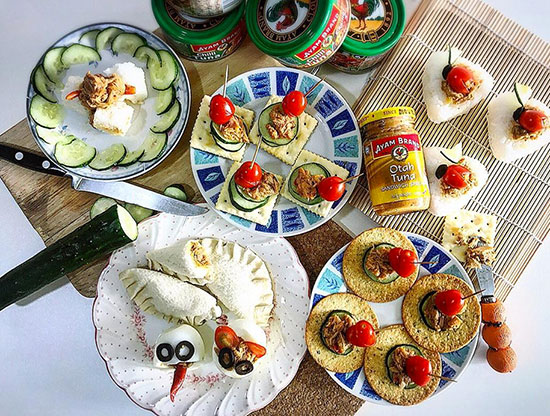 BY: TYLER@TYLOMERE
What you need:
For Tuna Easy-Sushi:
For Tuna Crackers:
Cucumber

Honey Tomatoes

Olives

Square biscuits

Round biscuits
For Tuna Puff Bread:
How to prepare:
Tuna Easy-Sushi:
Take a small handful of rice and shape/roll it like a sushi.

Add a teaspoon of Ayam Brand Tuna on top of each piece.
Tuna Crackers:
Place two slices of cucumber on top of a square plain biscuits.

Add one teaspoon of Ayam Brand Tuna on top.

Then use a toothpick to pierce through one honey tomato and olive. Add the toothpick on top by sticking it into the biscuit.
Tuna Puff Bread
Cut away the crusts of the white bread.

Add two teaspoons of Ayam Brand Tuna.

Roll the bread into the shape of a curry puff and press the edges together to seal them.