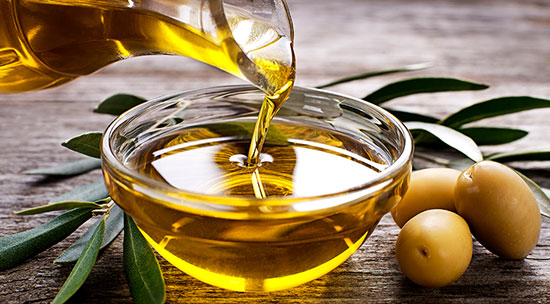 Everything You Can Cook With Olive Oil
Walk into the cooking oil section in a supermarket and you'll be overwhelmed with choice. Sunflower oil. Canola oil. Olive oil. What differentiates one type of oil from another and which should you choose?
In this article, we discuss using olive oil, its benefits and how you can cook with it.
What Is Olive Oil?
Sourced from olives, olive oil is a liquid fat that is widely used in Mediterranean cooking. The taste, aroma and colour of olive oil varies depending on several factors such as where it is produced, the type of olive, and how it is processed.
Much like wine, olive oil is a matter of personal preference. Some may like the strength and robustness of Greek olive oil while others prefer the herbal aroma and grassy flavour of olive oil from Italy.
There are a few types of olive oil, mainly regular olive oil, virgin oil and extra virgin olive oil. The differences arise due to the production process. To be labelled " virgin", the olive oil has been extracted from olives mechanically without any chemical processes. "Extra virgin" denotes the highest quality of olive oil, which has no flavour defects.
The Health Benefits Of Olive Oil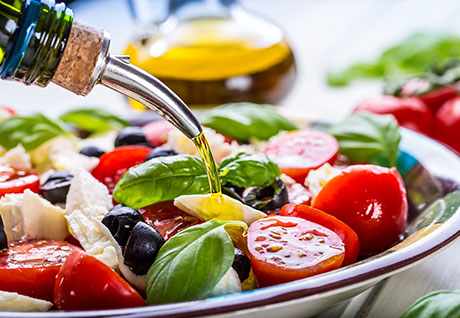 Olive oil is often described as one of the healthiest types of oil we can consume. Here's why: it is a healthy monounsaturated fat, has anti-inflammatory properties and is rich in antioxidants.
According to Olive Oil Times, olive oil can:
Help prevent osteoporosis.

Help prevent Type-2 diabetes.

Help fight depress.

Reduce the risk of cancer.

Reduce the risk of Alzheimer's Disease.
To reap the health benefits of olive oil, it's important to choose the extra virgin type that is olive oil in its purest form.
Incorporating Olive Oil In Your Diet
Aside from being great for your health, olive oil is incredibly versatile and can be used in several ways. Using olive oil in your cooking can add depth and flavour to your dishes. Here are some tips on how to cook with olive oil.
Use Olive Oil On Its Own
Olive oil, especially the extra virgin type, is delicious when used on its own. Use it to as a dressing on your salad for a light lunch or prepare a delicious pasta aglio olio with olive oil.
Dipping bread in olive oil is a delicious appetiser or snack. You can also use olive oil as a garnish or finishing oil on soups, pastas or steaks. Try our Sardines Pasta and top it off with a drizzle of olive oil.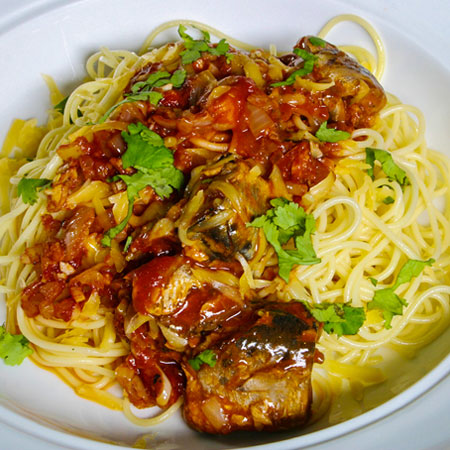 Consume Canned Foods Immersed In Olive Oil
Given the health benefits of olive oil, it's no surprise that we wanted to combine it with the goodness of sardines. The result: Ayam Brand™ Sardines In Extra Virgin Olive Oil.
This product is great way to add even more nutrition into your diet. Ayam Brand™ Sardines in extra virgin olive oil is low in sodium, high in Omega-3 and has zero trans fat.
You may also want to try our Ayam Brand™ Tuna Omega-3. Low in sodium and fat content, the tuna flakes in extra virgin olive oil have an additional infusion of Omega-3 (DHA + EPA). It also contains no trans fat.
Eating canned foods immersed in extra virgin olive oil is great for eating healthy without compromising on taste! When opening a can of sardines or tuna in olive oil, remember to drain the oil and keep it for later use.
Use Olive Oil For Frying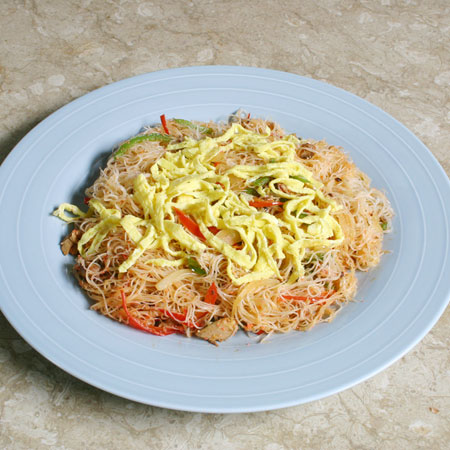 The most common use of cooking oil is for frying, and of course you can use olive oil to fry foods — whether it pan frying, shallow frying or deep frying. In fact, the oleic acid that is present in olive oil makes it very stable and good for frying as it does not oxidise as easily as other types of oil.
Olive oil also has a higher smoke point compared to other oils, which makes it more difficult to overheat and ruin it. What's more, olive oil remains flavourful and safe when reused for frying. One important thing to note is that extra virgin olive oil loses some of its flavour when under high heat, so it's okay to choose a lower grade (and cheaper!) olive oil to use for frying. Whether it's vegetables, fish or other foods, frying with olive oil is a healthy choice that makes your food tasty.
For instance, substitute normal oil with olive oil when preparing our Tuna Fried Rice or Fried Vermicelli & Sardines.
Use Olive Oil When Baking
Here's a pro tip:
Substitute butter or margarine in baking recipes with olive oil as a healthier option. Olive oil has less fat and less cholesterol than butter.
Ingredient quantities are an exact science in baking so be sure to get the correct conversions when using olive oil instead of butter.
Ayam Brand™ products can be found at all leading supermarkets and hypermart.