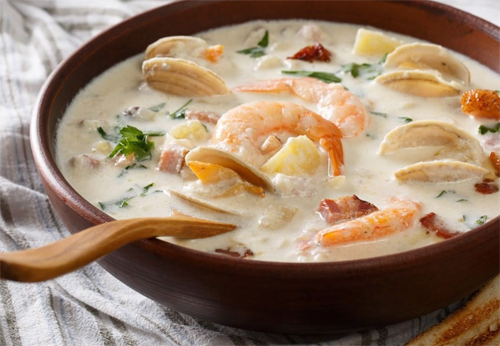 2 Pax | 60 Minutes

INGREDIENTS
⁣1 medium onion (chopped)
2 teaspoons canola oil
1/4 teaspoon cayenne pepper
470ml chicken broth
1/4 teaspoon salt
1/4 teaspoon pepper
420ml Ayam Brand coconut milk
450g uncooked medium shrimp, peeled and deveined
300g raw shellfish of your choice
200g potatoes (small dices)
1/4 cup lime juice
2 tablespoons minced fresh cilantro
PREPARATION
In a large saucepan, saute onion in oil until tender. Add cayenne pepper. Stir in the broth, corn, salt, and pepper.
Bring to a boil. Reduce heat; simmer, uncovered, for 5 minutes. Remove from the heat and stir in coconut milk. Cool slightly.
In a food processor or blender, process soup in batches until blended.
Return all to the pan. Add the potatoes and simmer for about 15 minutes. Then Add shrimp and shellfish
Cook and stir over medium heat for 5-6 minutes or until shrimp turn pink. Stir in lime juice and cilantro.