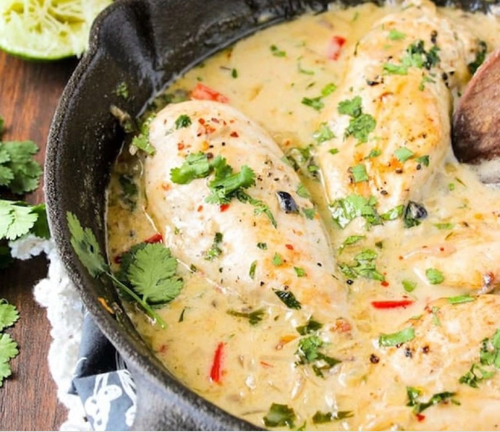 5 Pax | 60 Minutes

INGREDIENTS
⁣600g boneless, skinless, chicken breasts
2 tbsp olive oil
2 tbsp butter
2 green onions, green and whites sliced + separated
2 cloves garlic, minced
1/2 cup chicken stock
2 tbsp fresh lime juice
Zest of 1 lime
2 tbsp honey
1/2 tsp red pepper flakes
1 Ayam Brand coconut milk 330ml
2–3 tbsp fresh chopped coriander
1 red chilli, thinly sliced (optional)
Kosher salt and fresh black pepper
PREPARATION
Season each chicken breast with salt and pepper.
Heat a large pan over medium-high heat. Melt butter with 1 Tablespoon of oil. When hot, add chicken cutlets and sauté until lightly golden, about 1-2 minutes per side. You want the chicken just lightly seared on the outside and not cooked through. Transfer to a plate.
To the same pan, add the remaining 1 Tablespoon of olive oil and cook the white parts of the green onions and garlic until just fragrant, about 30 seconds. Make sure not to burn the garlic.
Stir in chicken stock, lime juice, lime zest, honey, and red pepper flakes. Simmer until reduced by half, about 3-4 minutes, while stirring and scraping to loosen browned bits from the bottom of the pan. If needed, reduce the heat so the mixture is at a simmer and not a boil.
Stir in coconut milk and season with salt and pepper, to taste. Simmer until reduced and thickened, about 4-5 minutes.
Return the chicken to pan and cook until the chicken is cooked through, approximately 4-5 minutes.
Stir in green parts of green onions and coriander, and red thai chilies if using.