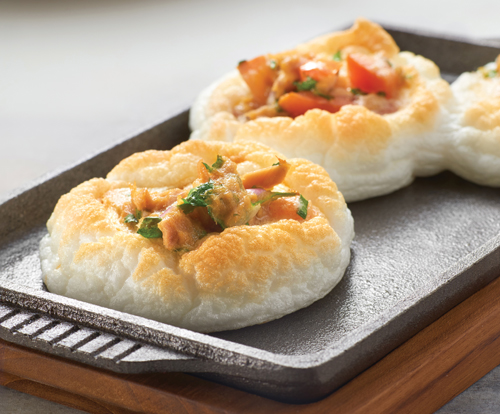 Makes 4 servings

INGREDIENTS
185 g Ayam Brand™ tuna chunks in olive oil
3 tablespoons chopped coriander
1 medium tomato, deseeded and diced
salt and pepper to taste
4 eggs, separated
PREPARATION
Mix tuna with coriander, tomato and egg yolks.
Season to taste with salt and pepper.
Preheat oven to 220°C. Line a baking tray with baking paper.
Whisk egg whites with a dash of salt until stiff peaks form.
Spoon dollops of the meringue onto the prepared tray, then drop a spoonful of tuna mix in the middle of the meringue.
Bake for 5-10 minutes or until crisp and golden brown on the outside. Serve immediately.