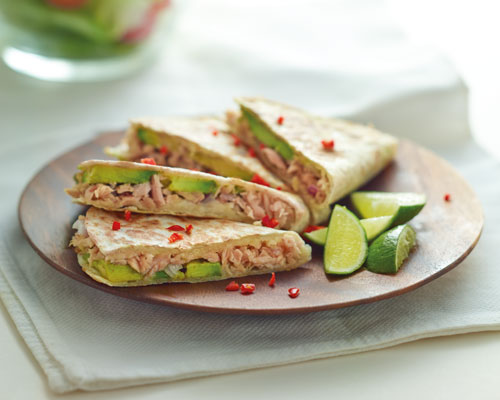 INGREDIENTS
1 can Ayam Brand™ Saba Flakes in Olive Oil
2-3 tortilla wraps
2 tbsp lime juice
½ red onion
100g parmesan cheese
100g mozzarella cheese
½ avocado, sliced (optional)
Salt and pepper to taste
PREPARATION
Mix together the saba, lime juice, onion, and salt and pepper in a bowl. Set aside.
Heat up the tortilla wrap on a non-stick pan at low heat.
Spread the parmesan and mozzarella on one side of the wrap. Then spread the saba on top of the cheese. Scatter the avocado if using. Then add more cheese on top. All on one side of the wrap.
Fold the empty half of the wrap and press gently. Increase heat to medium.
Let cook for about 30 seconds, then carefully flip the half-moon shaped quesadilla. Cook further for another 30 to 40 seconds.
Repeat until filling is used up.
Cut into three segments and ready to eat!