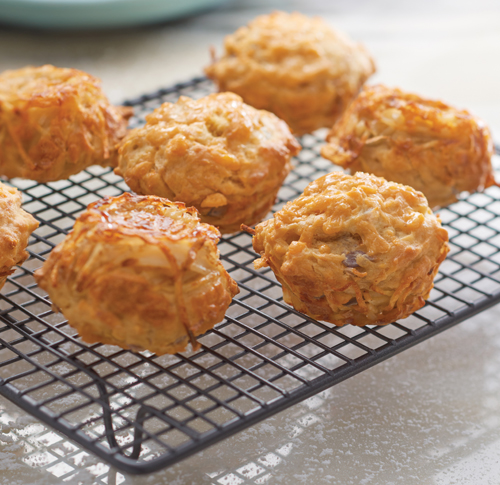 Makes 4 servings

INGREDIENTS
500 g potatoes, finely grated
250 g plain flour
2 teaspoons baking powder
½ teaspoon baking soda
185 g tin tuna mayonnaise
125 ml coconut milk
1 small onion, chopped
80 ml vegetable oil
1 egg
salt, to taste
butter, for greasing
PREPARATION
Lightly grease two 6-hole muffin tins with butter.
Preheat oven to 180°C.
Line each hole evenly with the grated potatoes.
Sift flour, baking powder and baking soda into a mixing bowl.
Make a well in the centre and fold in the rest of the ingredients with a fork.
The batter should be chunky. Pour mixture into the muffin tin.
Bake for 15 to 20 minutes or until cooked through.
Serve warm for breakfast or as a light meal.