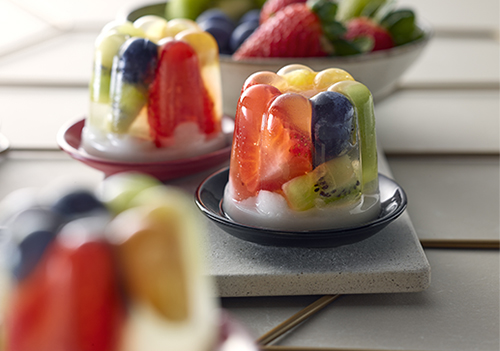 Ingredients:
Fruit Layer:
2 cups water
¼ cup sugar
1¾ tsp agar agar powder (Swallor Brand)
2 cups small fruit pieces of your choice (Strawberry, Kiwi, Orange, Blueberries)
Coconut Layer:
¾ cup Ayam™ Brand 20% Coconut Milk
¼ cup water
¾ tsp + ⅛ tsp agar agar powder
3 tbsp sugar
A pinch of salt
4 inches pandan leaves (optional)
Method:
Make the fruit layer.
In a small pot add cold water, lychee juice, agar agar powder, and whisk until there are no more lumps.
Once mixed, turn on the heat and bring to a full boil, stirring constantly.
Once boiling, let it boil for a minute or so, or until agar agar powder is completely dissolved.
To check, scoop some liquid into a spoon, pour it off, then closely inspect the spoon to see if there are any specks of agar agar stuck to the spoon or not. If not, you're good to move on.
Add sugar and stir until dissolved, then removed from heat and immediately pour about ¼ inch of the agar agar into your mold.
Quickly place fruit pieces in the mold, making sure you evenly distribute all the different colours.
Once you've added all the fruits, pour the rest of the liquid gently over them.
Let this layer sit for 20 minutes or until the top is firm enough to pour on the second layer.
While you wait for the fruit layer to set, make the coconut layer.
In a small pot, combined coconut milk, water, agar agar powder, and stir to dissolve the powder.
Add the pandan leaf, if using, then turn on the heat to medium high and bring to boil, stirring constantly.
Once boiling, let it boil for a minute or so, or just until the agar agar is completely dissolved (do the same check as above). Add sugar and a pinch of salt and stir to dissolve. Remove the pandan leaf.
Your bottom layer should be firm enough by this point, but check by gently touching it and see if the top is set and dry; it is okay if it is still soft in the centre.
If it is ready, pour the hot coconut layer on top of it. If the bottom layer is still quite soft, pour the coconut layer onto the back of a spoon and let it drizzle gently onto the bottom layer.