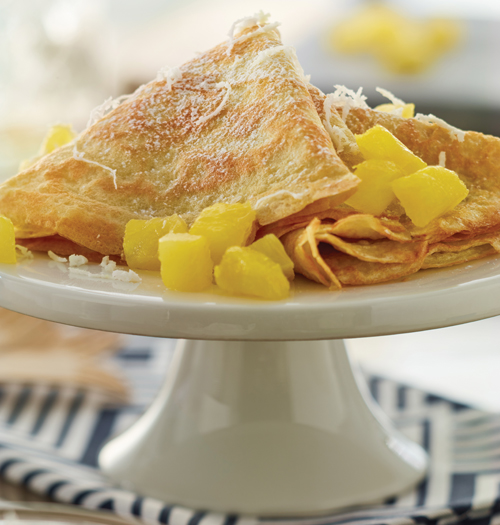 Makes 4 servings

INGREDIENTS
80 g pancake flour
200 ml coconut milk
2 eggs
pinch of cinnamon, optional
pinch of salt
1 egg white
100 g pineapple chunks in syrup, drained
powdered sugar and desiccated coconut, for garnishing
PREPARATION
Whisk flour, coconut milk, eggs, cinnamon and salt.
Cut the pineapples into small wedges, set aside.
Heat a non-stick pan and pour some batter.
The batter should form a thin layer, so swirl the pan to get an even surface.
Cook until the bottom turns golden brown, approximately 1 minute.
Flip the crepe and cook for another 30 seconds. Remove from pan and fold into quarters.
Top with pineapples and desiccated coconut.
Dust crepes with powdered sugar to serve.