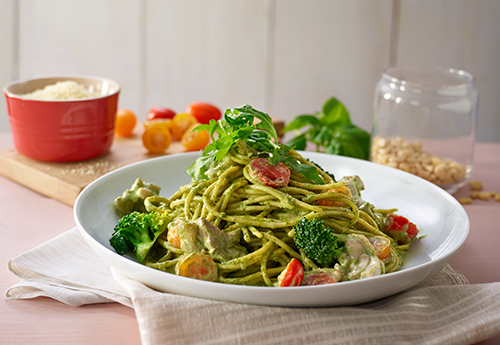 Ingredients:
180g choice of pasta
50g pesto sauce
50g chicken meat
3 cherry tomatoes
1tbsp garlic
150g coconut milk
10g arugula
30g broccoli
Pesto sauce:
130g basil leaf
25g parmasan cheese
60g olive oil
40g pinenut
2garlic, whole
1pinch salt
1pinch black pepper
Method:
Cook the pasta in a pot of boiling water for 6-10 minutes. Strain in a colander and drizzle olive oil on it and toss well.
In a hot pan, drizzle with canola oil and add 1 tbsp of minced garlic, add in the cherry tomato, chicken meat and broccoli. Stir well.
Add in the coconut milk, pesto sauce and bring to boil. Add in the pasta and season with salt, black pepper and chicken powder.
Once ready, transfer to a bowl and finish with arugula on top of the pasta. Serve warm.
Pesto Sauce
Pluck the basil leaf from the stalk. Discard the stem.
Roast the pinenuts in a tray at 180C for 6-8 minutes. Cool down the pinenuts thoroughly before adding into the blender.
Pulse the basil and pinenuts, then add in the olive oil slowly. Once the oil is all added in, add in the rest of the ingredients.
Mix well and ready to use